GCAT: 2021 The Year in Review
Posted January 1, 2022
View this email in your browser
2021 The Year in Review
From the President of GCAT
Holiday Greetings fellow GCAT members and supporters!

Biking and walking have always been a source of great joy in my life. They help me mentally and physically, as I am sure they do for many of you. I always look forward to a long bike ride with good friends, but even a short ride to pick up a needed item reduces my stress and anxiety levels and helps me cope and hope that better days are ahead. We are truly blessed in Guelph with a network of bike lanes and trails that can get us to most destinations with the power of our own legs. We need to increase safe Active Transportation infrastructure and make this network more enjoyable for people of all ages and abilities to move the modal shift towards less car use.

This is our GCAT Mission, and a pathway to real Climate Action in the fight against Climate Change and our City wide target goal to be Net Carbon by 2050 – or sooner. Let's do this together!

Although the pandemic limited our abilities to continue with our annual in person rides, we did manage to have some exciting events, and there has been progress made by our advocacy in achieving our Mission during 2021. Below are some of the highlights.

GCAT EVENTS IN 2021

Bikes For Community Connection (BFCC) Program


The BFCC, led by board member Alex Ball, is one of the most rewarding GCAT programs. Through the work and support of our partners and sponsors (including: City of Guelph, Shelldale Family Gateway, Speed River Bicycle, Immigrant Services Guelph Wellington, Guelph-Wellington Local Immigration Partnership, and researchers at the University of Guelph), we were finally able to distribute 11 donated and refurbished bikes to newcomers to Canada at The Shelldale Centre in July. This program fulfills a need in our community for active and affordable transportation options, and we hope to continue with an expanded program in 2022.

If you have a bike to donate or wish to help, contact us at info@gcat.ca. An extra thanks goes to our partners at Speed River Bicycle for storing and refurbishing bikes!

Love Your Bike Festival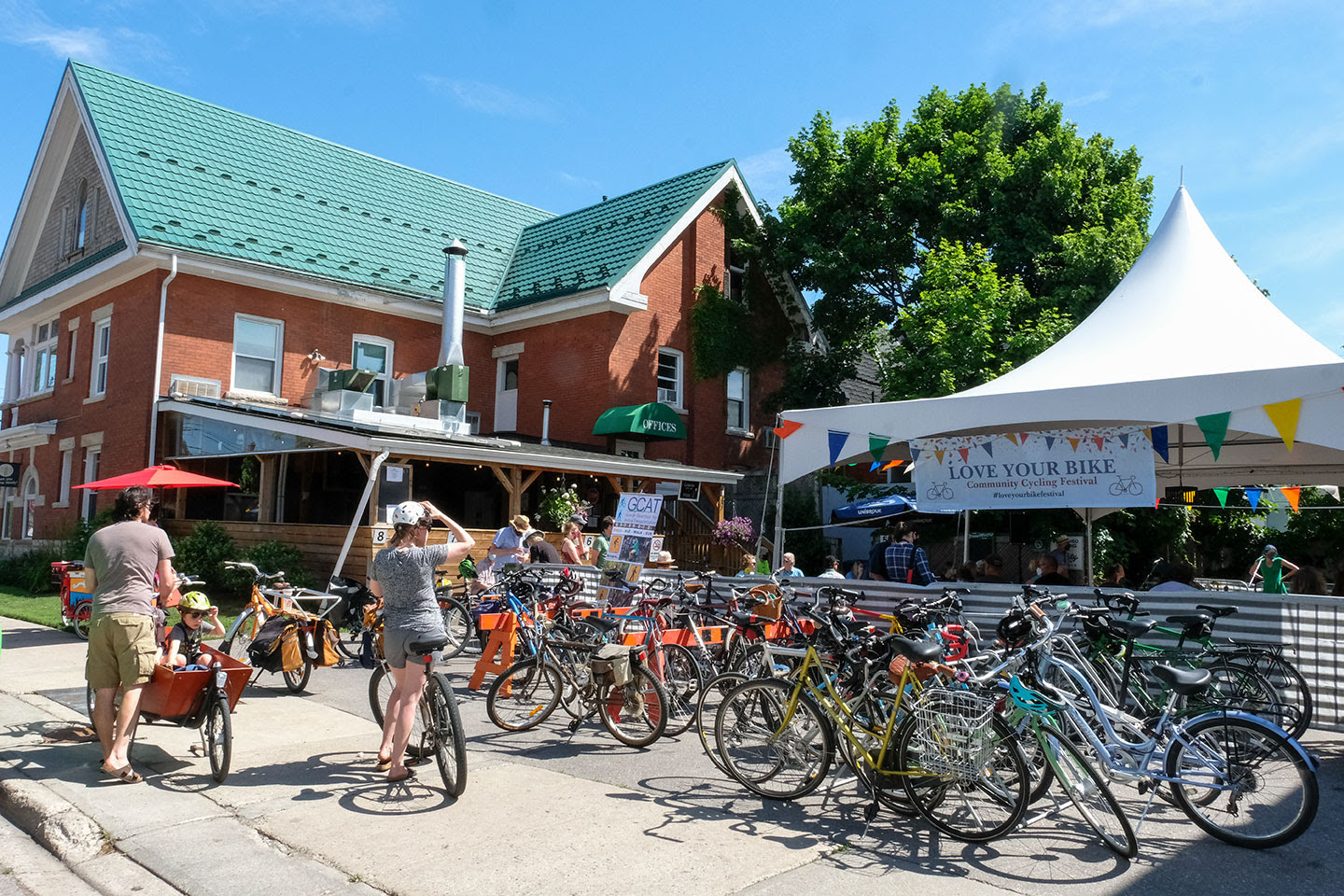 An annual favourite in partnership with St Andrews Church and The Wooly Pub is the Love Your Bike Festival. There wasn't a group ride this year, but we invited everyone to bike to The Wooly to listen to stories about the magic of bicycles, win prizes, and watch a Wrench Off where contestants competed to be the fastest at fixing a flat tire. Kudos to Wilfrid Ferwerda, Ben Robinson (Guelph Public Library), Two Rivers Church, and event organizers Richard McRonald, GCAT board member Yvette Tendick, (and me).

Bike Minds

In June we hosted a virtual night of Bikes & Empowerment stories in partnership with Bike Minds. Members of the Guelph community: Darren Shock, Dominique O'Rourke, Kris Plummer and Krista Crozier, and Leah Nielsen of Unicorn Scoops, shared tales of how their bicycles and cargo bikes empowered them personally, reduced their car use, and made their lives so much richer.

Bike The Night



Bike The Night was a SPECTACULAR success with the largest turnout for any GCAT event to date.Participants were very creative decorating their bikes with multi coloured LED lights and glow sticks and some came in costume. Starting in Exhibition Park just before sunset ,the excitement and number of people grew as darkness fell. The turnout included Guelph Mayor Cam Guthrie, our MPP Mike Schreiner. CTV news Kitchener caught the excitement at the start of the ride which was accompanied by the music of Queen as we rode towards downtown. Highlights of the event were biking over the Covered Bridge, cruising through the downtown weekend street closure of the Patio Dining District to the applause of the diners, and biking en masse around the drained pond in the Market Square.

Next year promises to be bigger and better with a big after party or music event downtown, along with support from the City.

It was great team work but huge Kudos to our main organizer and our new board member Mike Hager! Our event poster was the work of our own board member Richelle Forsey!

Fall Colours Ride



It is always tricky to time and plan events that require Mother Nature to cooperate, but she did!

Our Fall Colours Bike Rides were another huge success for 2021! Registered participants gathered at our ride sponsor Fixed Gear Brewing Alma location for the start of the rides, and this was perhaps one of the most fun parts of the event as we met new and old friends and oohed and aahed our bikes. Riders chose between two separate rides: a 5.5 km route through tree-lined residential streets and city trails or an 11.5 km trek through The Arboretum along the University of Guelph campus where nature put on its best showing of fall leaves.

Both rides ended back at Fixed Gear's Edinburgh location for some needed "refreshments", pizza, and a chance to win great prizes from Fixed Gear.

Big thanks to our board members Laura Brown for organizing and to Richelle for the awesome poster.

ADVOCACY

2021 Pedestrianized Dining District Downtown Guelph & Speed Limits

We believe a more pedestrian and bike friendly downtown is good for the planet and good for local business. More and more cities around the world are moving in this direction. Unfortunately the overwhelming success of the first year (2020) closure of the intersection of Wyndham and Macdonell streets was controversial and polarizing in opinion, and we lost some of the vibe in 2021 with the new Patio Program. The pandemic has proven we are capable of quickly meeting the need for more public space outside and we hope that this leads to more demand as it is clear people love to meet friends on a downtown patio for food and drinks.

We delegated at Council for a downtown that prioritizes people over cars, as well as a much lower speed limit throughout the downtown for safety and enjoyment that would entice more people to visit and support the local business in the City. GCAT also delegated to City Council for much safer Speed Limits in our neighbourhoods. The science clearly proves the survival rate at 30km is exponentially higher for a pedestrian than at 50km. Safer speed limits also decreases noise and increases the enjoyment of our neighbourhood streets.

Guelph Trails Master Plan Update (GTMP) & Transportation Master Plan (TMP)

GCAT participated in several stakeholder meetings with the City on the Guelph Trails Master Plan Update (GTMP). We believe our trail system is integral and complementary to our on-road bike lane and multi use path (MUP) network. The huge advantage of our trails is the built-in safety and the sheer pleasure of walking and riding without the noise and anxiety caused by vehicular traffic.

GCAT advocated for several new priority connections and trails, and many made the GTMP list of priority projects. One of the most exciting is an extension to the existing and highly popular Trans Canada Rail Trail (TCT) terminating near the Macdonell street bridge. Our recommended extension would bring it all the way to Victoria Road. Now just imagine the possibilities this extension enables!



Another exciting proposal that compliments the TCT extension is a trail underpass beneath the Macdonell bridge that would eliminate the current busy road crossing. This will require great vision and political will, but would add huge value and economic return by increasing the attractiveness of our City as a great place to live, work and play. Note (in the artist rendering below) the new location of the falls upstream that enables clearance under the bridge for a trail underpass while also showcasing the falls that are currently hidden from view.


The proposed TCT extension now connects the furthest Northern limit points in our City with the furthest Eastern city limits with a mostly protected Active Transportation network of trails and MUPs.Several project proposals make this possible, let me lead you through them. Starting at the current TCT terminal downtown (pink bike in the map below), the planned pedestrian Ward to Downtown bridge will offer a safe crossing of the Speed River beside the current Guelph Junction Railway (GJR) bridge. Marveling at the upstream and downstream views of the Speed River as you walk, jog or ride across the bridge you will pass by the restored Spring Mill Distillery. Travelling East we approach the award winning Metalworks residential development. Many existing and proposed residential developments in this area will benefit from their location adjacent to or in close proximity to the TCT extension. Residents will be able to access a peaceful multi-purpose rail trail without having to drive. This is the concept of the 15-minute neighbourhood where one can access many destinations including local and regional GO transit in a sustainable and enjoyable manner.



As we cross Arthur Street we reach the future Woods development adjacent to the trail which will rival the Metalworks in size and wow factor as it will incorporate a brick heritage structure into the residential development.

Continuing along the TCT Rail Trail several new residential developments near the Historic Ward Neighbourhood will be able to connect to the trail including the 5-storey residential redevelopment at 120 Huron Street (the former Chemtura factory) that includes secure indoor bike storage with an accessible ramp to the entrance. This type of bike storage really encourages more Active Transportation, and may allow for reduced minimum parking requirements which allows for more space for more units and higher density.

The next rail trail intersection is Stephenson street beside the IMICO brownfield site with the potential for redevelopment into residential and commercial mixed uses.It is adjacent to the TCT extension with all the Active Transportation benefits previously mentioned.

I recently delegated at City Council on the York Road / Elizabeth Street Urban Design Concept Plans and highlighted the connectivity advantages this TCT rail trail offers in combination with the proposed MUPs along York Road starting at Victoria Road. and extending to the City limits. There is also a City proposal to enable a Metrolinx pedestrian crossing at the currently fenced off rail/road intersection at Cityview Drive. A crossing would reconnect the neighbourhoods North of the railway to the rest of the City and to the future Guelph Innovation District (GID), which includes the recreation and trail system of the Ontario Reformatory lands.

GCAT also delegated to Council, participated in stakeholder meetings and provided comments to the City on the Transportation Master Plan (TMP). The next stage will be the development of the Implementation Plan where we (and you) will also have an opportunity to comment.

How Can You Get Involved?
The latest exciting City news is the Cycling Network Study for the plan to implement 13 km of PROTECTED CYCLING FACILITIES along 3 main corridors – Gordon Street, Eramosa Road, and College Avenue. We are preparing our comments and suggestions for the City, but we highly encourage you to participate too. The study includes a map where you can pin areas along the proposed routes with your ideas, concerns for, and comments. You may have unique knowledge which will help the design team develop the best protected bike facility options for each corridor. Visit haveyoursayguelph.ca and have fun!

If all of the above plans and projects come to fruition, we will have an amazing network of AT infrastructures that will enable us to move around our City in a more sustainable, safe, and enjoyable way.

We are also advocating for a regional connection to our TCT at the North end of our City to the Guelph to Goderich trail (G2G). This rail trail stretches 130 km and is a former railway bed. It has been repaved from Silvercreek Parkway to Goderich but ironically, the short Guelph section remains in rough condition. Stay tuned and dream that one day soon you can simply hop on your bike and ride all the way to Goderich from Guelph!
The GCAT team continues to advocate for many other issues including safer connections at road intersections on existing trails and advocating for the safest biking and walking infrastructure networks. We most recently communicated with Metrolinx expressing our concerns about the potential for more road/railway crossing closures which discourage Active Transportation and divide neighbourhoods. We have been assured that they are not planning on any further closures.

You are always welcome to send us your comments, ideas and concerns. We have built a strong and respectful relationship with the City and members of City Council and we will be your advocate whenever possible. Please contact us at info@gcat.ca
I hope to see you soon at our GCAT 2022 AGM in February!

Wishing everyone a safe and happy 2022.
Mike Darmon
President GCAT
Happy New Year!
< Back to News